Cochrane Restaurant & Hospitality Employee Mortgage Program
Say Hello To Mortgages & Lending Made Easy — Rated 5/5 Stars By Our Clients!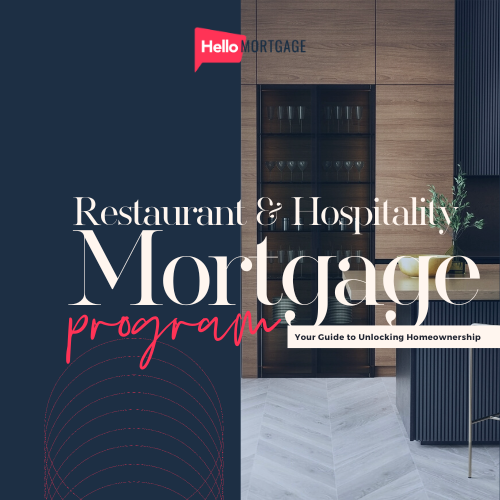 Are you a dedicated individual in the Cochrane restaurant or hospitality industry, looking to fulfill your dream of homeownership?
Look no further! We've designed a specialized mortgage program tailored to your unique needs and financial circumstances. With our expertise and commitment to helping you overcome the hurdles faced by individuals like you, we'll guide you every step of the way.

Dive in and explore the fantastic benefits and support we offer to help make your dream a reality!


What is the Cochrane Restaurant & Hospitality Employee Mortgage Program?
The Cochrane Restaurant and Hospitality Employee Mortgage Program is specifically designed to address the unique challenges faced by professionals in these industries within Cochrane. By offering competitive interest rates and flexible down payment options, the program makes homeownership more accessible for those with fluctuating and tip-based incomes in Cochrane.

We understand the nuances of the restaurant and hospitality sectors in Cochrane, guiding you through a streamlined approval process that accommodates your busy schedule. Expert advice and guidance tailored to your needs help you to make informed decisions. This specialized mortgage program effectively alleviates the obstacles faced by restaurant and hospitality employees in Cochrane, empowering you to achieve your homeownership dreams.
EMPLOYEE INTEREST RATE DISCOUNT
We offer an exclusive mortgage perk to Cochrane restaurant and quick service industry professionals, rewarding their hard work with reduced interest rates on their mortgage. This exclusive discount helps lower monthly mortgage payments, making homeownership more accessible and financially manageable for those in the Cochrane industry.
FREE GUIDANCE FROM COCHRANE INDUSTRY EXPERTS
Take advantage of our extensive resources, including free educational emails, comprehensive guides, informative social media content, and personalized phone consultation sessions, all designed to empower you with the knowledge and support needed to make well-informed decisions on your path to homeownership in Cochrane.
FLEXIBLE INCOME VERIFICATION
We recognize that Cochrane restaurant and hospitality professionals often have varying income sources, such as tips, commissions, and fluctuating hours. Our program takes this into account, offering flexible income verification methods that consider your unique earning patterns, making it easier for you to qualify for a mortgage.
DOUBLED UP DOWN PAYMENT
An advantageous way for Cochrane employees who participate in an employer matched RRSP/Savings plan and qualify for the First-Time Home Buyer Incentive. This unique offering enables eligible homebuyers in Cochrane to use the employer matched funds and add an extra 5% or 10% to their down payment from the first-time home buyer incentive, significantly boosting their purchasing power and paving the way for a more affordable homeownership experience.
ELEVATED TO VIP STATUS & REWARDED
You'll become a member of our exclusive VIP Club. Each month you'll have an opportunity to win great prizes - no strings attached. Additionally, by referring someone you know who needs mortgage advice, you could stand a chance to win your mortgage or rent payment, up to $2,500 each month!
CONVENIENT SCHEDULING & NO BANKERS' HOURS
We understand that Cochrane restaurant and hospitality professionals often work unconventional hours, which is why we offer a flexible scheduling system for our clients in Cochrane. You can book appointments based on your availability, including evenings and weekends, ensuring that you receive the support and guidance you need without having to compromise your busy schedule. Say goodbye to traditional bankers' hours and enjoy a personalized, convenient experience tailored to your needs!
Ready to take advantage of this incredible program and embark on your journey to homeownership?
Download our FREE Cochrane Restaurant & Hospitality Mortgage Guide or contact us today to schedule a free discovery call. Your dream home is just a click away!



Attention Cochrane Restaurant and Hospitality Employers!
Did you know that you can set up your own custom mortgage program as part of your employee benefit plan?
Give your team a fantastic perk by making homeownership more accessible for them!
If you're interested in creating a tailored mortgage program for your employees, don't hesitate to book a discovery call with our experts. We'll help you determine if it's the right fit for your business and guide you through the process.
Don't miss this opportunity – book your discovery call today to lower turnover and invest in your employees' future!